---
NSW Aboriginal Land Council's Strategic Plan 2022-2026 (the Plan) sets the direction for the next four years and prioritises our efforts towards securing a better future for Aboriginal people in NSW and maximising the social, cultural, economic and political potential of our land and people.
Created by the elected NSWALC Council in consultation with the Land Rights Network, Aboriginal Owners and community members, the Plan and the Supplement serve as our Community, Land and Business Plan in accordance with the Aboriginal Land Rights Act 1983 NSW (ALRA).
Our vision for Aboriginal Land Rights continues to build on NSWALC's aims when it was established in 1977 – land acquisition and activation, building on the strengths of our communities, protecting and promoting our Culture and Heritage, and securing our future.
Find out more, download the Strategic Plan 2022-2026:
The Strategic Plan can be accessed online here.
NSWALC Strategic Plan Supplement 2022-2023
This is our first annual Supplement under the new Plan.
It includes:
The draft annual supplement includes:
Our strategies for the financial year ahead for achieving NSWALC's long-term objectives and goals set out in our Plan, including our strategies to develop or acquire the necessary human resources and skills to implement our proposals.
Our timeframes to provide clear indicators for measuring success against the overall aims of the relevant goals and specific objectives.
The Strategic Plan Supplement 2022-23 can be accessed online here.
---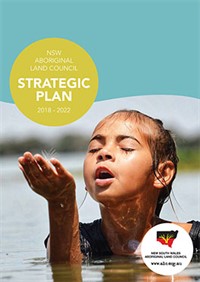 Strategic Plan 2018-2022
Our Strategic Plan sets NSWALC's direction and prioritises our efforts towards cultural protection, social wellbeing and economic development.
CLICK HERE TO VIEW
Strategic Plan Summary
With this Strategic Plan the Council of NSWALC is setting an ambitious agenda that gives effect to our obligations to our forebears...
CLICK HERE TO VIEW
Strategic Plan Supplements
---