Jessica Wegener, Economic Development Officer NSWALC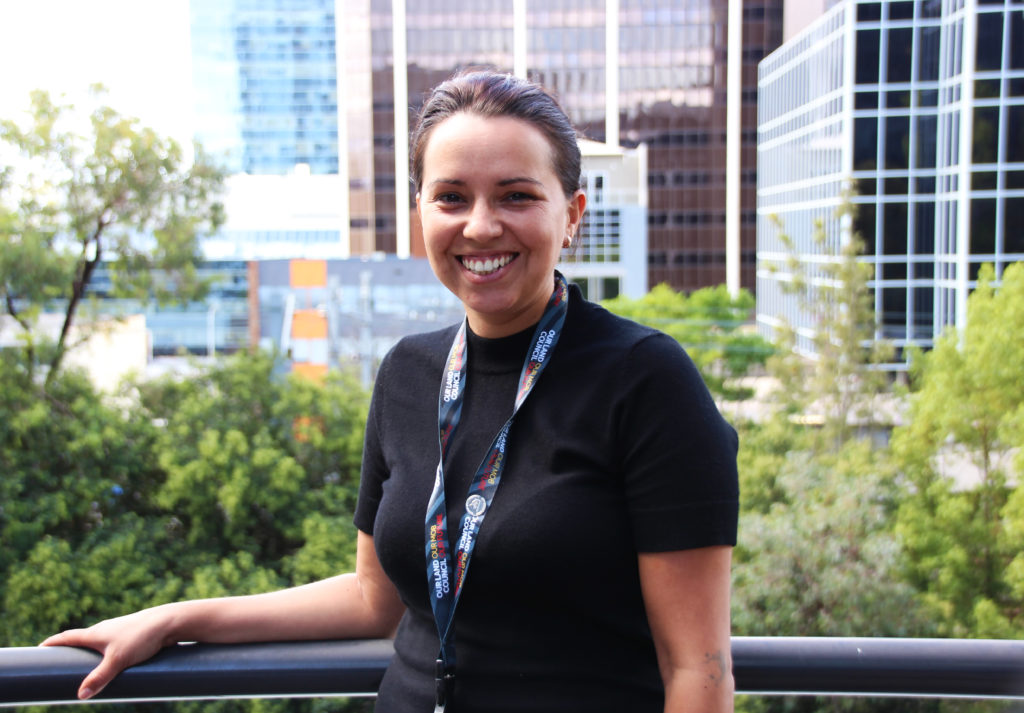 I'm Ngiyampaa Wangaaypuwan from the Cobar/Ivanhoe area King Mob. I grew up in South Maroota in the Windsor area, and later moved up to Newcastle/Lake Macquarie areas.
My role models are my mum, dad and grandma. Mum, because of her continued connection to culture. My father has, and grandma had, a beautiful heart so I got a lot of my aspirations and personality from them.
I became involved with Land Rights as I connected more with my culture while growing up. I lived in Toronto after finishing high school and started there with Koompahtoo when I was 17. Lois Towney was an inspiration which is where I first realised all the possibilities Land Rights bring. I moved around a bit for work in Jindabyne, Cobar and Melbourne and came back after having my son. The Land Council position popped up with Biraban, so I applied started as a Project Officer, later became Project Manager and also looked after a land management team there.
Working in Land Rights for a number of years progressed me into thinking about how to grow opportunities in Local Land Councils. So when the positions for Economic Development Officers were advertised, I thought, this is an opportunity to help identify business opportunities for LALCS and progress Aboriginal people as a whole community. this is where I want to be! I've been with NSWALC for a few months now.
I think the most important part of my work is that as the peak body, we are here to assist LALCS to participate in the economy and develop their economic and cultural capacities. The land is our birthright as Aboriginal people, and forging new partnerships will help our people identify what best benefits their communities long term. What works best in different communities? And how can ideas be turned into opportunities?
One of my most notable experiences within the Land Rights network was a major project to bring tradtional fire back on country, after we successfully gained a grant from Local Land Services in 2016. Three LALCs, Biraban, Bahtabah and Mindaribba were involved with the project with the Rural Fire Service.
The RFS provided our Land Management teams with full training, I compiled the burn plan, and we conducted a monitored burn on Lot 506 at Morriset, which is LALC Land. A traditional burn is quite different to an RFS burn which is very fierce. Our burns are a slower trickle. Slow burns actually enrich the land's own nutrients, as well as reducing fire hazards.
The Traditional Fire project was so successful that Biraban, Bahtabah and Mindaribba were sponsored to attend the 2016 "Fire Stick Forum" in Cape York.
It's very important for young and old to be voting members of their LALCS in every community because it's the largest network within NSW for Aboriginal people. Stay strong and be supportive of your LALC. Remembering that your voice can ensure the participation in great things. Get to know who's in your community, and participate in members' meetings and projects the LALCs are running. They give you opportunities to get to know your Elders and provide you with links as well.
Land to me is about connection. My connection to country is in my spirit and I continue to connect through learning about the uses of traditional medicines, and the Dreaming of areas. Learning the traditional names of each plant, each animal of that area. It's about the connection between one plant and the next plant and the structure of the whole environment that I know has a healing effect within myself, my community and the land itself.