Aboriginal Cultural Heritage Bill submissions extended to 20 April
9 March 2018
The closing date to make submissions on the NSW Government draft Aboriginal Cultural Heritage Bill 2018 has been extended to 20 April, 2018.
As part of the consultation process, the NSW Government is also hosting workshops which will be held during March. All workshops commence at 9am, and finish at 2.30pm.
NSW Aboriginal Land Council Chair Roy Ah-See said it was important for Local Aboriginal Land Councils and Aboriginal peoples to attend workshops and make submissions about what should be in the new laws.
To register to attend a workshop please visit the Office of Environment and Heritage (OEH) website at:   http://www.environment.nsw.gov.au/topics/aboriginal-cultural-heritage/legislation/draft-aboriginal-cultural-heritage-legislation-2017-consultation/public-information-sessions . OEH advises that registration will assist with catering but you can still attend if you haven't registered.
For more information please the NSW Aboriginal Land Council's Network Message from 23 February and the NSWALC "More than Flora and Fauna" link.
Remaining OEH workshop details are as follows. Please confirm details directly with OEH.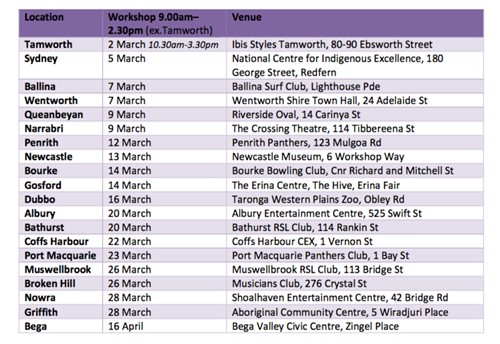 Submissions can be made online, by email, post or by phone. To make a submission please visit the OEH website at: http://www.environment.nsw.gov.au/topics/aboriginal-cultural-heritage/legislation/draft-aboriginal-cultural-heritage-legislation-2017-consultation